Billy's grandfather went into business to provide optical as well as jewelry services, a common practice years ago. During World War II, his store made eyeglasses for the Navy; but when son Bill Lawson took the helm, he began to focus only on jewelry.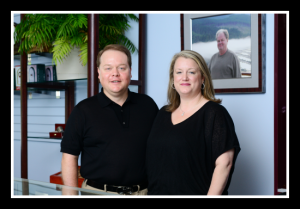 Bill and a partner opened St. Matthews Jewelers during the early 1980s in the Wallace Center, but moved to its present location in 1988. After Bill's death last May, Billy took over, and now is assisted by his wife, Kelly; Chad Davis, who is married to Billy's sister, April; and jewelry designer Barbara "Bahbie" Cruz. An elderly black Lab named Elvis is the store's greeter ("Wal-Mart has nothing on us," Kelly quipped).
"This is all I've ever wanted to do, my whole life," Billy said. "I enjoy everyday interaction with customers in a retail setting, doing whatever I can to help them enjoy something they really like wearing."
The Lawsons will celebrate their fifth wedding anniversary in July. They were sweethearts when he attended St. Xavier High School and she was a Sacred Heart Academy student.
"We broke up when we were in our twenties, but got back together in our thirties," she said. "We reconnected here in the store – I came in to buy a gift in the fall of 2004, but didn't know Billy was working here until he came out of the back room."
Customers whom Billy's father served still come in, as do first-timers, for work that ranges from repairs to creating pieces from scratch. The store also replaces about 25 watch batteries daily, provides free ring cleaning and inspection, and buys jewelry.
"We go to several estate sales every month, and spend a lot of time buying broken chains and unused pieces," Kelly said. "People also bring us their family jewelry to rework into something they want now." Her own engagement and wedding ring set was built around a diamond from the 1930s.
"I really like estate jewelry," Billy said. "The history of it – it's fun to figure out where it came from, so we can tell customers when they look at it."
This time of year, St. Matthews Jewelers is asked to make one-of-a-kind graduation rings. Many traditional class rings have cluttered designs, are very expensive, and end up in a drawer after only a year or two.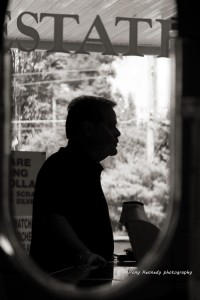 "People are getting very creative," Kelly said. "They may find a piece at home, or at an estate sale, that has stones matching their school colors. Parents sometimes have things they've been saving for their kids, and decide to use them for graduation rings instead of waiting for weddings. Of course, we have new stones and mountings as well. Either way, the result is a graduation ring the student will enjoy wearing forever."
Another trend is the copying of heirlooms for other members of one's family. Barbara, who is skilled at working with platinum as well as gold and silver, is in the process of replicating her mother's cherished Madonna medal.
Other pieces she has custom-made include Kyle's Cross, which was requested by the father of cancer patient Kyle Pratt, who died in 2003 at age 11. Additional crosses have been purchased by friends and relatives of other patients, including Brooke Clemons, who was seven when she died in 2006.
"We appreciate the opportunity to make jewelry that has special importance," Barbara said. "Engagement rings are especially popular for custom-designing these days. We recommend setting your price point first. You can hand-pick your diamond, and we'll explain the grading system. We can help with the design. That process adds so much meaning – when a young man designs the engagement ring for the woman he loves, he's pretty proud."